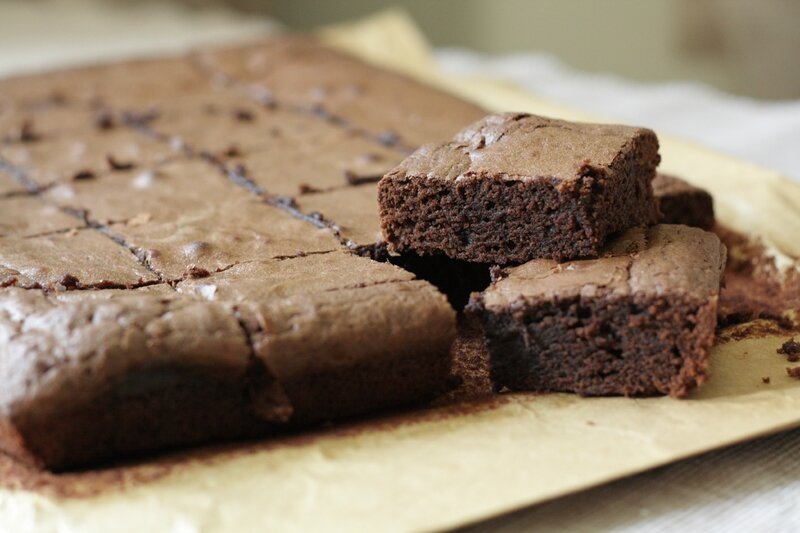 Avis aux fans de chocolat! Vous voulez epater votre cheri(e)/ invites/collegues a moindre effort ? (ou juste vous regaler, ca marche aussi!). Cette recette est pour vous...
15min de preparation, 20min de cuisson, un peu de patience pour laisser refroidir et la magie operer, et voila! Un des meilleurs brownies que j'ai jamais manges!
Mille mercis a ma collegue Rebekka qui a eu la gentillesse de partager sa recette avec moi, qui va devenir un de mes classiques (en plus il est inratable!)
J'ai indique les proportions originales, mais incorrigible comme je suis, je n'ai pas resiste a reduire un peu la quantite desucre et a utiliser mon fameux truc de remplacer une partie du beurre par de la compote de pomme. J'ai egalement ajoute un peu de cafe pour renforcer le gout du chocolat (mais on ne sent pas du tout le gout du cafe au final).
Le resultat final ressemble beaucoup a l'original de mes souvenirs: fort en chocolat, fondant et delicieusement addictif!

Ingredients
Pour un tres grand gateau (moule rectangle de 20-25x30-35cm , environ 24/30 parts).
- 300g de chocolat a 70% de cacao (important!)
- 300g de beurre
ou 150g beurre + 150g de compote de pommes
- 450g de sucre (j'ai mis seulement 300g)
- 10g de sucre vanille ou 1 cuillere a cafe d'extrait de vanille
- 200g de farine
- 5 oeufs
- optionnel: 1 cuillere a cafe de cafe lyophilise dissous dans 2 cuilleres a cafe d'eau bouillante.
- 1 cuillere a cafe de sel
- optionnel: noix de pecan, amandes effilees, noix, noisettes...
Instructions
- Prechauffer le four a 180C.
- Faire fondre le beurre et le chocolat au bain-marie (ou au micro-ondes par tranches de 30s en remuant a chaque fois, attention a ne pas cuire le chocolat!). Ajouter le sel et le cafe dissous.
- Melanger les oeufs entiers avec le sucre et le sucre vanille (ou extrait de vanille), ajouter la farine tamisee et bien melanger.
- Ajouter le chocolat/beurre fondu, bien melanger.
- Placer une feuille de papier sulfurise au fond du plat, verser la pate et enfourner pour 20-25min a 180C.
- Sortir le gateau quand le dessus commence a craqueler. Il ne faut pas que le milieu soit trop cuit.
- Laisser refroidir 15min puis retirer le papier du moule et poser sur une planche. Couper des parts de 4-5cm de cote.
- Conserver dans une boite hermetique a temperature ambiante. Il est bien meilleur refroidi, et encore mieux le lendemain!
------------------------------------------------------------------------------------------------------------------
Hello chocolate addicts! You want to impress your other half/guests/colleagues without spending hours in the kitchen? (Or just enjoying it for yourself, that works too!). This one just waits for you...
15min prep, 20min cooking, a bit of patience to let it cool and the magic happen... et voila, the best brownies I've ever eaten!
Many many thanks to my colleague Rebekka for sharing this wonderful recipe with me, that I know will become one of my classic/go-to/failproof chocolate cakes.
I've indicated Rebekka's proportions, but as usual (I can't help it...) I haven't resisted to tweak a bit the quantities: I replaced half of the butter with apple puree and significantly reduced the amount of sugar. I also added a bit of instant coffee to deepen the chocolate flavour (but there's absolutely no taste of coffee at the end). The texture and taste were still very similar to the original, from what I remember : intense, moist and very addictive!

Ingredients
For a very big cake (baking pan 20-25x30-35cm), yields about 24-30 squares
- 300g chocolate, 70% cocoa (important!)
- 300g butter
or 150g butter and 150g apple puree
- 450g sugar (I've put only 300g)
- 10g (1tbs) vanilla sugar or 1 tsp vanilla extract
- 200g plain flour (not self-raising!)
- 5 eggs
- 1 tsp salt
- optional:1 tsp instant coffee dissolved in 2tsp boiling water
- optional: pecan nuts, walnuts, almonds etc...
Instructions
- Pre-heat the oven at 180C
- Melt butter + chocolate in a bain-marie, or in a micro-wave (mixing every 30s to avoid burning the chocolate). Add the salt and dissolved coffee.
- In a separate bowl, mix eggs + sugar + vanilla sugar/extract, then the flour, mix well, then the melted chocolate + butter. Mix well.
- Line a baking pan with baking parchement and pour the batter (level with a spatula)
- Bake for 20-25min at 180C until the top starts to crack. Avoid overcooking for a moist, fondant center.
- Let cool for 15min then turn out of the pan to cut in squares (4-5cm).
- Store in an air-tight container at room temperature. It's even better the next day.
Enjoy :)