Recipe from Jane Hornby on BBC Good Food

For about 15 small scones (Ø 5cm) or 6-7 medium scones (Ø 7cm)
350g white flour
1 tablespoon baking powder (11g)
30g (=2 tablespoons) caster sugar (only 20g sugar if using vanilla sugar)
1 teaspoon Vanilla extract or vanilla sugar (8-10g)
85g salted butter, cold and cut into pieces
115g buttermilk + 60ml of normal milk
or 165ml normal milk + a few drops of lemon juice (*)
(*) buttermilk can be substituted by normal milk acidified with a few drops of lemon juice. (I even use a mix of half milk /half greek yoghurt, that I found to mimic the buttermilk texture even better)

Egg wash: 1 egg beaten mixed with a bit of milk (or milk alone)
Preheat the oven to 200°C (fan oven), 220°C (classic oven),

Sift the flour with the baking powder. Cut the cold butter into small pieces and rub in with your fingertips until the mixture is homogeneous, like breadcrumbs. Add the sugar.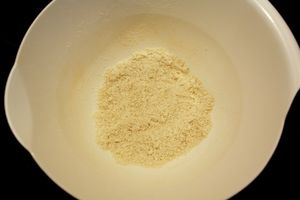 MIx the milk and buttermilk together (or milk+yoghurt, then add a few drops of lemon juice), and warm gently (30s in a micro-wave). Add to the dry ingredients, and mix briefly with a spoon to combine everything together.
Flour your hands, the work surface and form a ball of dough. Press the dough down with your hand, and fold it on itself 3-4 times (don't knead excessively).
Press down with your hands to obtain a thickness of 2.5-3cm (up to 4cm if you want them really high, there's not really any need to roll out here).
Cut the scones with a round cutter (Ø5cm to 7cm) in the middle of the dough (don't include an edge) in one go, without rotating the cutter (this sharp cut will prevent any "sealing" of the edge, allowing the scones to raise properly). Repeat as long as there's enough space on the spread dough to cut more scones, then press what's left of the dough back into a round to cut out another scones.
Place on a baking tray covered with baking paper, brush the top of the scones with milk or egg wash.
Bake for 15-20min at 200°C (fan oven, or 220°C for a classic oven), until golden brown if to serve immediately. If not, take them out of the oven earlier (before they're coloured) and re-heat them at 160°C for 5min just before serving so they are crispy outside.
Serve warm with jam, chocolate spread, butter or, of course, some clotted cream (or whipped).